What's New
« Back
WHY EXTREME PAYS OFF: WASHINGTON'S WINE REGION
Mar. 21, 2017
---
There are some drives you know you'll always remember, and my drive through Washington's wine region is one of them. The fact I was driving around in a ridiculously oversized car certainly helped (why renting a 9-seater SUV worked out cheapest, I'll never understand…) and the pimped out sound system did make me feel like a bad ass. But it was largely thanks to the dramatic weather change that it sticks out so much in my memory.
I had spent the morning treading the parched earth of the vineyards in Yakima with the hot sun sizzling my bare shoulders. But less than an hour down the road, I was driving through torrential rain in the Cascade Mountains with barely a metre's visibility. Wipers on full throttle, 80s power ballads blaring out, I crawled through the mountain pass towards the Pacific coast and onwards to the city of Seattle. The cold, heavy marine fog was a rude awakening as I arrived, shivering, in my summer apparel. I didn't know if my nose was pink from sunburn that morning or because of the afternoon's freezing temperatures. Either way, it took me by surprise – as it has others before me.
Washington wine region: An unexpected oasis
"Washington was perceived as north, cold and wet," Bob Betz, a renowned Washington winemaker and MW, told me over a few glasses of his tasty Cabernet. "Everyone thought that because we were close to Alaska, all it did was rain, and that it was pretty freezing here."
Bob probably knows the stereotype of Washington better than anyone – he spent 28 years at Washington's oldest winery, Chateau St. Michelle, peddling its wine across the US (and later the world) when Washington barely even registered as a wine region. "The truth is, if you look at where the vineyard regions of Washington are, they are in the shadow of the Cascade Mountains. This enormous mountain range has peaks of up to 3,500 metres that block the cool, wet weather systems from coming off the Pacific Ocean, making the vineyard area of Washington a much drier, warmer, and hospitable spot to grow classic vinifera varieties."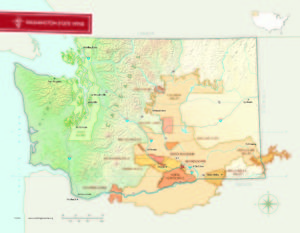 Landlocked between high mountains and a desert, the Columbia Valley (aka. Columbia Basin to the locals) has an entirely different climate to the rainy reputation of its urban capital, Seattle. The average rainfall in the wine region in Yakima, for example, is just 210mm a year, compared to 950mm on the other side of the mountains. And most of Yakima's 'rainfall' is actually measured by inches of snow in the winter.
Washington's wine region is, in a word, extreme. The state might border Canada and sit on the northern edge of the 'wine belt' perimeter, but it isn't its northerly persuasion that makes the Columbia Valley extreme, but rather its continentality.
Read the full article here: written by Amanda Barnes March 13, 2017